African politics many times has experienced a lot of setbacks which has hindered its progress, impact and the true taste of democratically rule of law setting. Apparently, many African country has suffered this fate. However,  as the matter maybe, many are ignorant, especially the older politicians today in most African countries, that the youths or rather let's say, the young lions have woken up to aspire for a change and possibly a take over. If you are from Africa, or maybe a visitor that have lived in some of this poverty crippling African countries, you will understand the gravity of this challenging issues which has erupted this yearning desire for freedom, justice and a better life for the people.
The young lion, yes I mean the thirsty lion, whose real name is Robert Kyagulanyi Ssentamu, known musically by the name Bobi Wine, is a Ugandan singer, actor, businessman cum radical politician. As the case maybe, the roaring lion Bobi, is a Ugandan legislator who is representing Kyadondo East constituency. The 38 year old who is hoping to unseat the sitting president of Uganda,  President Yoweri Museveni, made his quest to via for the presidential seat in this year 2021, nevertheless, he is said to be one of the biggest contender for the presidential position which has about 11 candidates contesting for same position.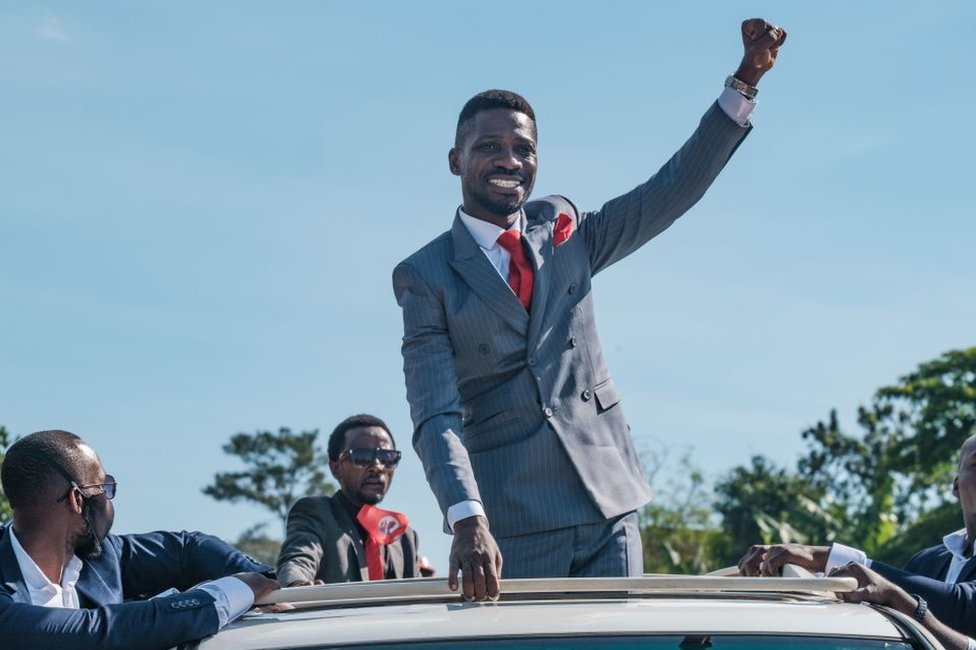 However, the young blood that runs in him that seeks for a better change for the people of Ugandans has earned him the full support of hundreds and thousands of young people across Uganda, as can be seen by the support he had received just some few weeks back during his presidential campaign in the capital city of Kampala, which saw young people mostly men dressed in red, who seem to emerge from the bushes and gardens and surrounding his motorcade, were seen to be in full support of  Bobi Wine, whose also known as the "ghetto president", as he was seen on the sunroof of his white Toyota Landcruiser as he waved at the crowds.
Very outspoken you will say, severally, he's  been a target as his life has continually been in danger for the fight for which he believes in, knowing that among what needs a transformation is the issue of corruption, human right abuse and also an end to the abuse of rule of law which is basically the killer of democracy and equal rights for all, which undeniably plays out in most African countries. And most importantly, he has always championed the end to "Dictatorship rule" thrilling off in most countries just like in Uganda.
But the most significant and most striking experience of being an African and having an egocentric African leader is the issue of "Dictatorship". Nobody should speak or should challenge the authority of a sitting ruler, yes I mean "Ruler" because that is what it is here in most African countries. You speak you die or get jailed or you speak and you are called at a conference table where you are bribed and remain silent. Sometimes, the case is different as speaking would fall on deaf ears. It is the experience that has led to more bravery move by most youths in Africa, just as we are seeing play out in Uganda.
Bobi Wine's manifesto of his National Unity Platform (NUP) party is geared towards basic needs like improving access to healthcare, education, clean water and justice. All of this, which to him can be achieved by removing sitting President Museveni from power. nevertheless, over the last two decades Bobi Wine's musical output has been filled with songs about these issues faced in Uganda and they have inspired a fervent following.
The question is , why should Africa continue to suffer a fate it suffered during the the time of the severe slave trade by the westerners which was encircled with pains. Is it a mental en-cagement? or is it a "Black thing" Just like Uganda, many African countries is yearning for same change and transformation.
What do you think?
Follow us @tuffgigmusicempire on Facebook, Twitter, Youtube and Instagram