Popular Nollywood actress, comedian and mother, Funke Akindele had got something to lighten the moods of her fans while everyone is trying to stay safe while practicing the self-isolation stay at home measures. The popular Nollywood actress and TV goddess, had gotten her fans all cracked up as she shares some very rare but a little far back pictures of herself on her social media handle.
The actress also known as Jenifa, shared a throwback pictures of when she was younger as a little child and her process and growth ever since stepping into the film or movie industry.
Remembering back to The Beginning of her Road to Stardom in the post's caption and said she thanked God for the ride so far and praised her mother for the proper education she had not provided.
She went on to state that her mother has done a wonderful job of preserving some of the images that helped her better understand her childhood.
And while advising fans on the best ways to safe guide their pictures while following on the footstep of her mother who had kept memories of her past pictures had advised fans to use the Google Photos app to save their pictures, which she says is the best way and means to store ones picture while it also retains the quality of the picture or pictures being saved. Writing on her handle, she had wrote;
"If you laugh!!! Hmmm I will bite you ????? looking at these pictures and can't stop thanking God for the journey so far and my Mum for the proper upbringing she gave me.
My mother did a great job keeping some of the pictures that have helped me appreciate my childhood better and today I would like you to start doing the same using the Google Photos app. This app is a home for all your photos and videos with unlimited free high quality storage that free up space on your phone. One of the coolest aspects for me is that it automatically organizes pictures, you can search pictures by people, places, things and it creates movies, animations, collages and more. For the final hamper I am giving away, go download the Google Photos at g.co/photos or the play store and share a picture of your and your mum in the app. Make sure the picture is a screenshot of that memory within the Google Photos app and don't forget to use the hashtag #ForMamaNG"
See post below: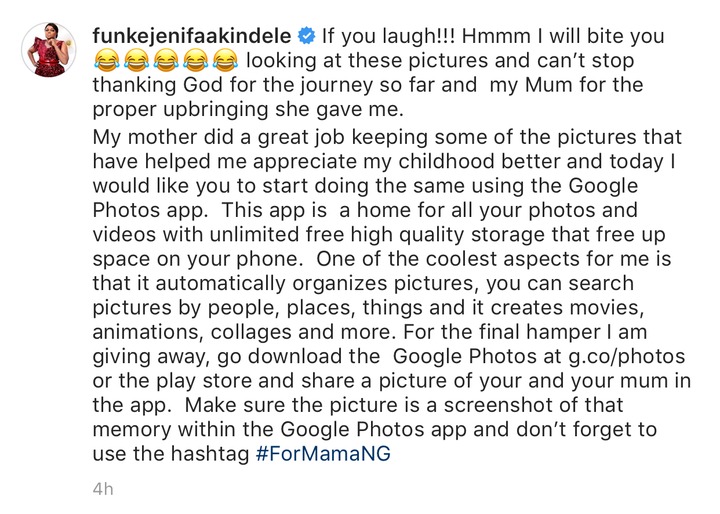 See shots from her throwback photos below: