Apparently, all over many parts of the world where the protest of the death of George Floyd is taking it strides to the one voice call agenda for justice of the Black Live and People of Colour. In the US where it is the centre of the protest, it has neither been smooth as more protesters are joining in to call for the justice for George Floyd, the entire Blacks and People of Colour. Though reports has it that in the New York, that it has become more peaceful than it was initially.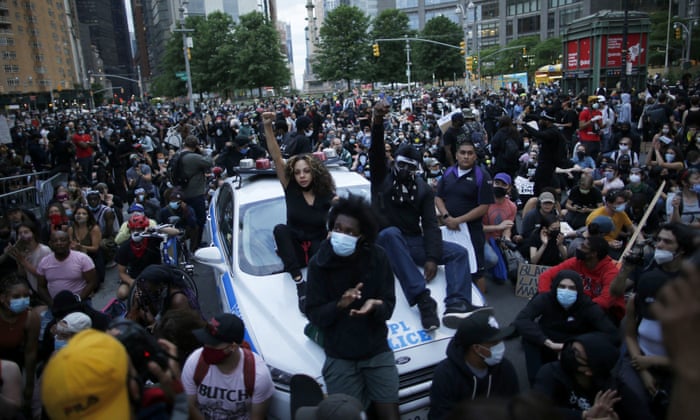 However, going by reports, Seattle police are said to be peacefully dispersing protesters..however, the uncontrollable mass protesters are seen dispersing a bit more as the police has also applied the use of tear gas and flashbacks to control the number of those trooping in to join on the protest.
See post below;
Police advancing with tear gas and flash bangs down Pine. Like of police with armored vehicle. pic.twitter.com/Kd6ekplv3H

— Sydney Brownstone (@sydbrownstone) June 3, 2020
However, a division has ensued as some of the organizers have devised a division to entertain and accommodate different interest in the fight for human right justice. The division which has some what gotten some people worried as it could lead to division of interest. On a recent short video trending, one of the organiser was seen directing those with different ideology for the protest in their different route partings…while some have argued that there shouldn't some division as everyone are fighting and speaking for one course, that the protest should be on uniform.
But apparently, the video makes division for peaceful route of the protest and another route for those who might want to engage more violently as the police have resorted to the use of tear gas spray for the dispersing of the enlarging crowds..Even though some fear are on the coordination of the protesting crowd so it won't lead to some uncontrollable protest that move onto to violent on the demand of justice.
Watch video;
Ok sorry im back again the roof was scary here's the protest https://t.co/9MkaRG3YhJ

— nathalie graham (@gramsofgnats) June 3, 2020
#seattleprotest #seattleprotests https://t.co/yoUhUkZ6ke

— pissed off, funny, and warm??☂️ (@cnspeckhardt) June 3, 2020